Rich internet applications
Rich internet applications (R.I.A.) are the next evolution of the internet web applications. They add to the advantages and the simplicity of internet websites a new ergonomy and the possibility to transform them into desktop applications.
We can see two ways for the development of the R.I.A..
Business applications
Business applications have the challenge to enhance the productivity of workers while reducing the costs of their deployment and maintenance.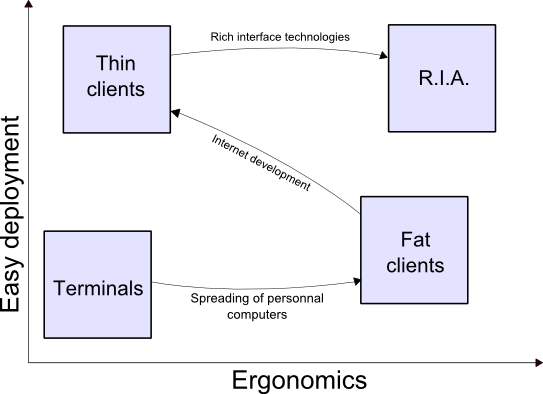 The challenge becomes really big if we consider the heterogeneity of the computers in a company and the information security
Internet has already enabled cutting costs by providing an easier access to information resources. But this easier access often drops down ergonomics. R.I.A. give a new place to ergonomics by providing richer interfaces to web applications for a better interaction between users and datas.
Web services
R.I.A. take web applications out of the browser, like traditional applications (these applications are also called R.D.A. for Rich Desktop Applications). Thus R.I.A are an opportunity to build a bridge between the internet world to the desktop application world through new interactions with user.
It is an engine of innovation for every company that provides internet webservices.
Our competencies
In a more technical way, KenaGard has advanced competencies in rich internet applications around the Flex/AIR technology. This technology uses the deep penetration of the Flash Player (98% of the browsers) and the rich graphisms it provides. Our choice is also justified by the fact that this technology is the most interesting on the market :
High server interactions via multiple support (AMF, RMTP, HTTP/XML) ;
Easy externalization from the browser through the AIR technology (Adobe Integrated Runtime).