Oodoc.com offers online document selling services by through a market place where authors and clients can meet
Through the web site, authors find an easy way to monetize documents that could have been lost on a hard drive. Clients find an important and varied source of information from market studies to dissertations.
Even if we can think that the main role of Oodoc.com is to offer visibility to its authors, it's linked with the need of finding documents in order to enrich its offer.
The AIR client we developed for Oodoc.com naturally integrates many tools in order to make it easier to publish and monitor sales.
The application is a widget that can be launched automatically at the machine startup. The widget enables documents publication through a simple drag'n'drop, sales monitoring is made easier by sales chart, precise stats on documents and instant sales notifications.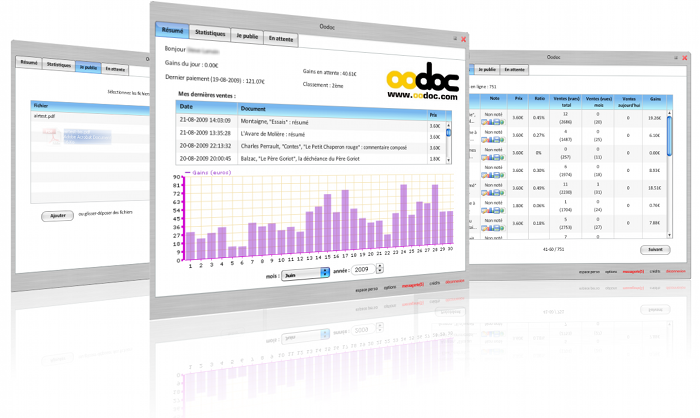 The choice of a Rich Desktop Application (RDA) was perfectly matching the needs for user-friendliness and the Internet interactions capability wanted by our client.
In an interoperability view, we can notice that the application works perfectly under Windows, Mac and Linux, thanks to the Flex/AIR technology, a strong reference of the rich internet application (RIA) market.